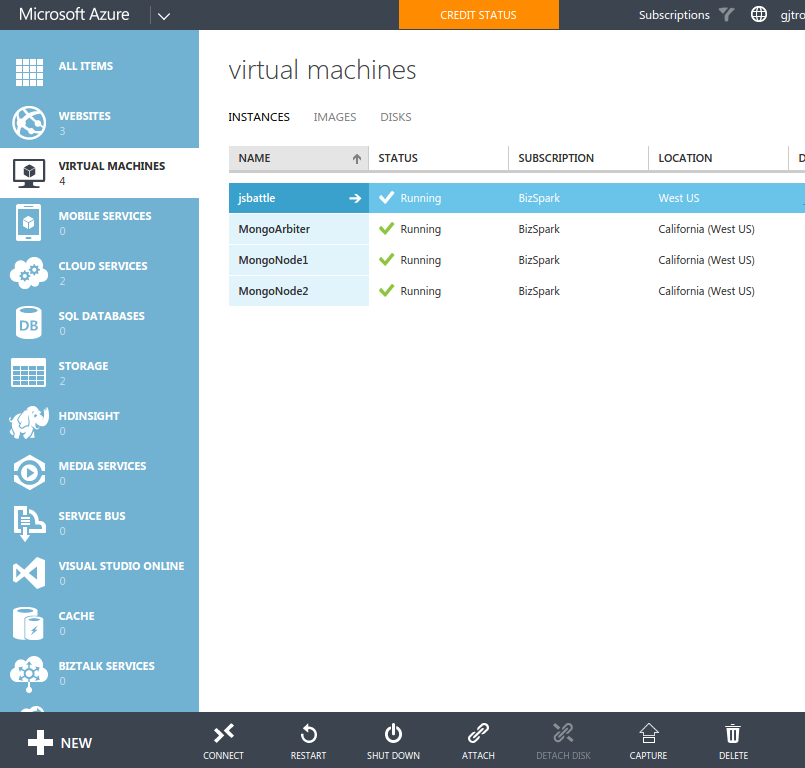 When we built the first version of JavaScript Battle, we were using Mongolab's free "sandbox" database. However, as our user base grew even modestly, we realized that we would need a far larger mongo database.
Enter Windows Azure (follow the link to learn about why I think Azure is great). MongoLab and MongoHQ both offer hosted mongo database solutions, but both are pretty expensive, and both provide fairly limited maximum database sizes.
So, after a bit of research, I decided to deploy a custom Mongo replica set on Azure.
If you're thinking you'd like your own, very large Mongo Replica Set (database) for a fraction of the cost of MongoLab and MongoHQ, I'd recommend checking out the following AMAZING blog post by Jeff Wilcox that tells you how to do exactly that.
Some thoughts:
You can follow the blog post's instructions almost exactly.
However, I would recommend NOT using the command line (as it does in the blog post). Instead, follow along with the instructions in the Azure portal.
For example, if the blog post suggests typing something into the command line, just do the equivalent thing manually in the Azure portal (a screenshot of my Azure portal is at the top of this post).
This tutorial is almost identical, and can help you figure out how to do this manually that the blog post suggests you do via the command line.
Try it out! If there's interest, I can expand this to be an actual tutorial based off of Jeff's blog post, but all the information is already there--the hardest part is simply knowing that the command line instructions won't work all the way through (so best to do everything manually).
Tag
deployment

projects

azure